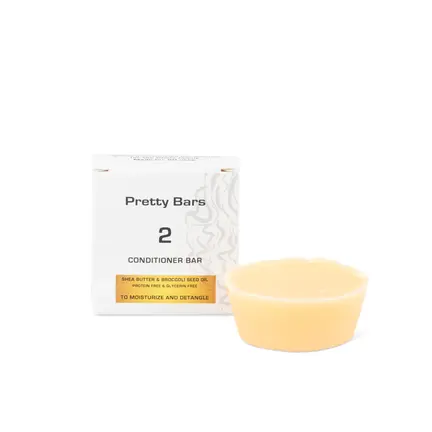 Pretty Curly Girl Conditioner Bar
139,00 kr.
This is a 2in1 conditioner bar
Can be used as a rinse out or leave-in conditioner.


PH neutral, 5
Protein Free & Glycerin free
Shea Butter & Broccoli Seed Oil

Purpose
Formulated to moisturize, nourish and to detangle your hair.

How to use
Can be used as a rinse out. Apply directly onto your wet hair and rub all over. Rinse out well and follow with our styling products. Or can be used as a leave-in, srub a small amount onto your hands and then smooth through the ends of your hair.
Ingredients: Behentrimonium Methosulfate, cetyl alcohol, butylene glycol, Butyrospermum Parkii, Brassica oleracea italica seed oil, parfum, Coumarin.