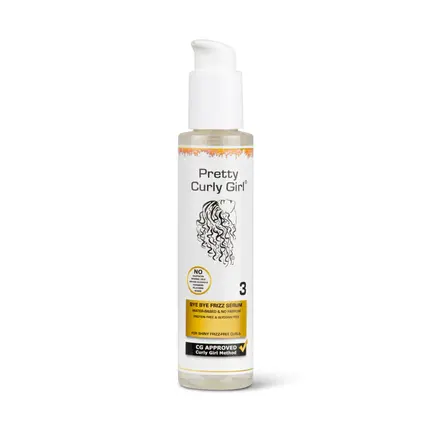 Pretty Curly Girl Bye Bye Frizz Serum 150 ml
129,00 kr.
PROTEIN FREE & GLYCERIN FREE
Waterbased & No Parfum

Tame your curly hair frizz, lube it up.
In the Curly Girl world it is very common to use lubricant. Why? It really works well for frizz. However, it can be embarrassing to buy lubricant or to have it in your bathroom. This is your solution:
Purpose: This lightweight water-based protein free serum will control frizz by smoothing your hair. It's shine boosting, without leaving your hair looking greasy.
How to use: Apply a little amount, to either dry or wet hair.
The Pretty Curly Girl products have been developed to help you follow the Curly Girl Method (CGM). CGM is used to care and style curly hair. Our products avoid ingredients such as harsh sulfates, silicones, parabens, and waxes, drying alcohol or mineral oils.
Ingredients: Aqua, Hydroxyethylcellulose, Propylene Glycol, Citric Acid, Potassium Sorbate, Sodium Benzoate